Link

Information

Origin
Legend of Zelda
Debut:
May 2, 2012
Career:
Active
Finishing Move:
Spear, "Fireman's carry into a Cutter"
Link is from the famous Legend of Zelda video game series and is an active member of the M4G-Nation Blue roster.
Debuting on May 2, 2012, Link was injured by Buu in a singles match and had passed away due to complications arising from his injuries. However, he made his return at Sonic Boom, and revealed in a promo that he was revived by his friend (M4G-Nation canon) Trunks through the use of Dragon Balls. Link was a one time Tag Team Champions alongside Captain Falcon as Team Super Smash Bros having beaten the Supermacy.
Early losses
Edit
Link would begin his career on May 2nd in a fatal four way match vs King, Gordon Ramsay, and Optimus Prime. Link would fail to get the win as Optimus Prime would pin King for the win. Link's next match would be in a tag team match. Link would tag with Trunks to battle Captain America and Captain Planet. Captain Planet would pin Trunks winning the match. Link would next answer the call of Inter-Universal Champion Buu on July 4th 2012. Buu would destory Link winning the match and breaking many of Link's ribs and organs. It was later revealed that Link did in fact die from the attack by Buu.
Shocking return
Edit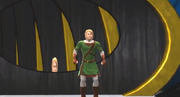 With the
Supermacy
gaining more and more power Link would rehab his injury. At
Sonic Boom
Jack-6
 the 
M4G-Nation Champion
 would get help from 
Zangief to
 defeat 
Yusuke Urameshi
 and
Boba Fett
. Boba would suffer a neck injury while Yusuke would get destoryed by the Supermacy. Before Jack-6 could break Yusuke's leg, Link would appear onstage and attack Jack-6 and force him out of the ring in order to save Yusuke. Link revealed that he was brought back to life by partner Trunks through the Dragonballs, and Link targeted Buu for revenge. Link would come out and cut off Buu telling him he would want to settle the score. He would challenge Buu to a 
Tag Team Championship
 match between Buu and
Bojack
 and Link and his partner of his choice which Buu accepted promising to kill him again. Link would team with 
Captain Falcon
 and they would battle the Supermacy on June 14th, 2013. They would pull off the upset and beat Bojack and Buu to become the new Tag Team champions. On the State of the M4g-Nation of June 18th, Buu would then challenge 
Super Smash Bros
 to a Tag Team gauntlet match with six other teams at 
Galactic Throwdown II (2013)
  which Link accepted. He and Falcon would enter as the 6th tag team and defeat
Spartan Fury
. Next, they would lose to
The Westeros
. Link defeated
The Flash
in the first round of the
Atom Weight Tournament(2013)
. He would move on to beat
Red Ranger
in the second round. After beating
Skeeter Valentine
in the semi finals, he moved on to final round. Accompanied by
Raphael
, Link lost to
Jesus
in the final round of the tournament. He would then enter the royal rumble number 39 and make the final two before falling to 
Boba Fett
.
Losing Streak
Edit
Link would then lose a triple threat to get into the M4G-Nation Championship match when Cookie Monster pinned Dante at Big Bang 2 (2013). Link would still be at the event fighting for the Atom Weight Championship but was unable to come away with gold. Link would be unable to defeat the new superstar Joker nor could he win an atom weight chamber match. The losing streak would keep going when he lost a fatal four way matchup and an Atom Weight contendership hell in the cell matchup on December 3rd 2013.
Championship
Edit
Link would end his losing streak and would later earn a shot at the Intergalactic Championship against both Buu and Vegeta. The match would be hard fought but after a Master Sword to Vegeta, Link would pick up the win earning his first singles title. Link would later face the M4G-Nation Blue Champion Kratos in a champion vs Champion match. Link would pull an upset, pinning Kratos after a devastating spear. Link would face Sub-Zero, Ironman, Batman, Ezio, and Buu at Solar Eclipse 3 in a Elimination Chamber match. Link would eliminate Ironman and Buu but would fail to reclaim his championship after being the last one eliminated by Sub-Zero.
Theme Song
Edit
Link is the only man to have been brought back to life through the use of Dragonballs in the M4G-Nation.
Link has taken the most time off having to take 11 months in order to recover from injury.
Link is 4-9 overall
Accomplishments
Edit
•M4gnation blue champion (1time,current)