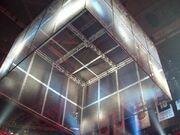 The Hell In A Cell match is a professional wrestling cage-based match type that the M4G-Nation frequently uses.
Hell In A Cell is rarely used in the M4G-Nation as is often used in very special cirumstances. For example, the Yusuke vs Buu feud ended in a Hell In A Cell match for the Inter-Universal Championship.
The match is contested inside a 20ft 5 ton cell which surrounds the ring. The match is usually only won via pinfall or submission inside the ring, but in some cases you can get the pin on top of the actual structure.
There have only ever been 6 Hell In A Cells in M4G-Nation history, the first one taking place on March 28, 2012. The two entrants booked to be a part of the match were the Dragonball Z tyrant Frieza and the Star Wars villian Darth Maul . Darth Maul was the victor after putting Frieza through the cell roof with a Russian Leg Sweep, showcasing the dangers of being in the Hell In A Cell match. 
Hell In A Cell matches are rare in WWE and are designed to be the finale of high-profile feuds. The same goes for the M4G-Nation as the feud between then-Inter Universal Champion Yusuke Urameshi and Buu ended inside the Hell In A Cell at Solar Eclipse for the title. This was the first time a championship was defended inside the structure and it ended with Buu picking up the win and becoming the Undisputed Inter-Universal Champion. The Hell In A Cell match has only been booked 12 times in M4G-Nation history and no one in the M4G-Nation has entered the cell more than once.
List Of Hell In A Cell Matches
Edit
| No. | Match | Stipulations | Event | Date | Time | Winner |
| --- | --- | --- | --- | --- | --- | --- |
| 1 | Darth Maul vs Frieza | Singles Match | M4G-Nation | March 28, 2012 | 8:30 | Darth Maul |
| 2 | Spider-Man vs Skeeter Valentine | Singles Match | Movie Promo | June 28, 2012 | 9:36 | Spiderman |
| 3 | Yusuke Urameshi (c) vs Buu | Singles Match For The Inter-Universal Championship | Solar Eclipse | August 19, 2012 | 17:45 | Buu |
| 4 | Space Ghost vs M4GNITUDE | Singles Match | Saturday Night Ghost Episode 3 | October 13, 2012 | 13:37 | M4GNITUDE |
| 5 | Vegeta vs Jesus Christ vs Captain Planet vs Lebron James vs Speed Racer vs Bandit Keith | Six Man Armageddon Hell In A Cell Match For The Hardcore Championship | M4G-Nation | December 6, 2012 | 14:31 | Vegeta |
| 6 | Santa Claus vs Jesus Christ | Singles Match | M4G-Nation | December 25, 2012 | 5:29 | Santa Claus |
| 7 | Scorpion (c) & Sub-Zero (c) vs King & Wolverine | Tornado Tag Team Match For The Tag Team Championship | Vernal Equinox | April 28, 2013 | 6:32 | Scorpion & Sub-Zero |
| 8 | Ezio vs Iron Man vs Kratos | Triple Threat Hell In A Cell Match In A Number One Contendership Match For The Galactic Championship | M4G-Nation | June 9, 2013 | 9:57 | Kratos |
| 9 | Darth Maul vs Ryu vs The Hulk vs Sephiroth vs Ironman vs Captain Pollution | Armageddon Hell In A Cell #1 Contender's Match for the Galactic Championship | M4G-Nation | June 23, 2013 | 18:48 | The Hulk |
| 10 | Harley Quinn (c) & Bloodrayne (c) vs Bulma & Princess Fiona | Tornado Tag Team "Oakland Rules" Hell In A Cell Match for the DD Championship | Singularity | August 4, 2013 | 7:10 | Harley Quinn & Bloodrayne |
| 11 | Bane (c) vs Jack-6 | Singles Match for the M4G-Nation Championship | Singularity | August 4, 2013 | 15:10 | Jack-6 |
| 12 | The Riddler vs Nappa vs Johnny Bravo vs Burger King vs The Man In The Yellow Hat vs James Bond | Armageddon Hell In A Cell Match for the TMNXT Championship | TMNXT (Episode 4) | August 9, 2013 | 15:10 | The Riddler |
Particpation List
Edit
| Superstar | Victories | Appearances |
| --- | --- | --- |
| Jack-6 | 1 | 1 |
| Buu | 1 | 1 |
| Vegeta | 1 | 1 |
| Kratos | 1 | 1 |
| Spiderman | 1 | 1 |
| M4GNITUDE | 1 | 1 |
| Scorpion | 1 | 1 |
| Sub-Zero | 1 | 1 |
| The Hulk | 1 | 1 |
| Santa Claus | 1 | 1 |
| Harley Quinn | 1 | 1 |
| Bloodrayne | 1 | 1 |
| The Riddler | 1 | 1 |
| Darth Maul | 1 | 2 |
| Captain Planet/Captain Pollution | 0 | 2 |
| Jesus Christ | 0 | 2 |
| Ironman | 0 | 2 |
| Nappa | 0 | 1 |
| Burger King | 0 | 1 |
| King | 0 | 1 |
| James Bond | 0 | 1 |
| Wolverine | 0 | 1 |
| Ryu | 0 | 1 |
| Speed Racer | 0 | 1 |
| Lebron James | 0 | 1 |
| Frieza | 0 | 1 |
| Skeeter Valentine | 0 | 1 |
| Yusuke Urameshi | 0 | 1 |
| Ezio | 0 | 1 |
| Sephiroth | 0 | 1 |
| Bulma | 0 | 1 |
| Princess Fiona | 0 | 1 |
| Bane | 0 | 1 |
| Johnny Bravo | 0 | 1 |
| The Man In The Yellow Hat | 0 | 1 |
| Space Ghost | 0 | 1 |