Captain Planet

Information

Origin
Captain Planet and the Planeteers
Debut:
April 18th 2012
Career:
Active
Finishing Move:
Force of Illusion (Suplex Cutter)

As Captain Pollution - Force of Illusion (Spinning crucifix side slam)
Captain Planet(or his current name Captain Pollution) is a character from the old TV series Captain Planet and the Planeteers. The Captain has been a longtime member of the M4G-Nation Blue Roster.
Captain Planet has been a member of the M4G-Nation for a long time as he debuted near the beginning. He is a former two time Galactic Championship. As Captain Pollution he was a former meber of the Buu Supremacy and was a reason for the stable no longer being in the m4g-nation. Pollution is the leader of his own group La Pollution and is dating Misty. Pollution is one of the most evil men in all the M4G-Nation and has been knwon to take down anyone who stands in his way.
Early Career
Edit
Captain Planet made his debut on April 18th 2012 in a four man ladder match. The other fighters were Master Chief, Hiei, and Android 16. While he put in a decent effort the match was won by Master Chief. Captain Planet would move on and complete in the first ever royal rumble entering at number 16. he would eliminate one man and last 8 minutes before being knocked out by Han Solo.
Captain Planet would start having success winning a battle royal between himself, Vegeta, Conon O' Brien, and Skeeter. He would then form a tag team with Captain America becoming Team Excitement. They would beat Trunks and Link in the second round to move on to the finals of a tag team tournament. In the finals they would go head to head with Darth Maul and Dante who were able to defeat Team Excitement.
The Captain would take a month and a half off to rest and would return to the second ever royal rumble. He would come out 5th, spend 8 minutes in the ring, and eliminate Ash before being knocked out by 50 cent. Captain Planet would move on to team with Captain America vs. Trunks and Raphael, however Captain Planet would be pinned.
Single's Title chasing
Edit
Afterwards Captain Planet would move on and try to win singles gold, he would face Aang, Dante, and Ryu Hayabusa in a fatal four way matchup. The winner would move on to the fatal four way match for the Atom-weight Championship. Captain Planet would win and move on to the fatal four way match. The match held on October 1st was a TLC match with Captain Planet facing Jesus, Ezio, and Champion Trunks. The match was very good but Captain Planet failed to get the title as Trunks retained. He would then complete in a elimination chamber match to try to become the number 1 contender for the Galactic Championship. He would make it to the final three but was pinned by Marcus Fenix.
He would then try to obtain the Newly made Hardcore title. The match was held in a Armageddon Hell in the Cell match Vegeta, Bandit Keith, Lebron James, Jesus, and Speed Racer. Unfortunately for the Captain the match was won by Vegeta pinning Bandit Keith.
Late 2012 and Early 2013
Edit
Captain Panet would then support with his tag team partner Captain America in his battle with Yusuke Urameshi Captain America made a deal, if Yusuke would beat Captain Planet he would get a shot for Captain America's M4G-Nation Championship. Yusuke would use a chair and get DQ giving Captain Planet the win. Captain Planet teamed again with former partner and Newly Crowned M4G-Nation Champion Captain America. They tried tag teaming vs. Blade and Black Dynamite on December 10 2012 but failed to win.
Captain Planet would try to win the third Royal Rumble match in order to get a shot at the M4G-Nation Championship. He would enter 3rd would last 6 minutes and 58 seconds and eliminate Blade before being taken out by Trevor.
Captain Planet would return from a long hiatus to complete for a shot of the Atom-Weight Championship in an Elimination Chamber. The other fighters were Flash, Tien, Red Ranger, Speed Racer, and Jesus. Captain Planet would come out fifth but would be knocked out first by Red Ranger. the match was won by Tien. Captain Planet would suffer an injury and would not return for a while.
Captain Planet would return for the fourth ever royal rumble match entering at number 11 but would last only 46 seconds being taken out by Batman.
Heel Turn
Edit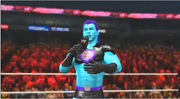 Captain Planet would reform Team Excitement along with Captain America to take on
Jack-6
and
Bojack
. Near the end of the match Captain Planet hit Bojack with a neckbreaker and would tag Captain America in, as Captain America walked in Captain Planet hit a DDT on his partner. Captain Planet would move Bojack on top of Captain America and the referee made the count. It appeared Captain Planet had joined the Buu Supermacy.
The day after the betrayal of Captain America, Captain Planet or Captain Pollution attacked Goku before Goku was to have a match. The Captain sported a new purple and black look. He would cut a promo stating he was tried of Goku getting chance after chance for the M4G-Nation Championship. He would go on to say that the Buu Supermacy would have all the titles before being attacked by Yusuke Urameshi. The day before Jack-6's Title defense vs. Boba Fett, Jack-6 called out Boba to the ring. It was all a ruse as Boba stood on the ramp Captain Planet droped from the rafters causing Boba Not being able to complete for the M4G-Nation Championship at Vernal Equinox.
Rivalry with Ash
Edit
Captain Pollution would attack Tien before he was to complete in a elimnation chamber match. He would enter fourth and find a way to make it to the final two before being pinned by fellow Supermacy member Ash. Captain Pollution would show more anger towards Ash coming out at Sonic Boom and stating Ash was useless to the Supermacy. Captain Pollution would confront Ash backstage on May 28th stating that he was tried of Ash's failures while ash proclaimed Captain Pollution is a nothing Jack-6 would break the backstage issues and would make a match. Ash vs Captain Pollution with the loser leaving the supermacy forever. In the match set in June 1, 2013. Ash had set a dominating offensive presence in the beginning, looking to dispose of the Captain early. However, Captain Pollution gradually acheived momentum, and after several near falls, Ash was pinned by Pollution after receiving a debilitating version of the latter's trademark Force of Illusion, ending his stint in the Buu Supremacy. 
Teaming with Jesus and battle with Master Chief
Edit
Captain Pollution's next match would be as a tag team as he and Jesus vs the teamn of Skeeter and the Red Ranger or Seriously Too Cool. Buu and Bojack would take out Red Ranger and Captain Pollution and Jesus would take down Skeeter. They would give him a double chairshot and take him out. Captain Pollution would then on the State of the M4G-Nation of June 10th 2013 would tell new number one contender for the Galactic Championship Kratos that they need to fight for it. Captain Pollution would warn Kratos that if they did not fight that life would be hell for Kratos. Kratos would give his shot away so he could be in the Tag Team Gauntlet at Galactic Throwdown II. Kratos's car would get run over by Captain Pollution using a monster truck. Captain Pollution was then entered into a Hell In A Cell match to determine a number one contender for the Galactic Championship. Pollution was pinned by The Hulk. Captain Pollution then aided Jesus in winning the Hardcore Championship at Galactic Throwdown II (2013) when he helped him attack the champion Batman backstage. On the 3rd of July, Pollution called out Master Chief for a Galactic title match. Master Chief accepted, on the condition that Pollution and Jesus beats him and a partner of his choosing on the 4th of July. Master Chief would choose the Hulk as his partner but Buu and Zangief would assault Master Chief backstage making it a 2-1 handicap match. Jesus would pin The Hulk causing Captain Pollution vs Master Chief for the Galactic Championship at Singularity.
Pollution would be called to the ring by M4Gnitude for his actions on the roster ever since joining the Buu Supermacy. M4Gnitude was about to fire Pollution before he could Captain Pollution would give a low blow followed by chair shots sending M4Gnitude to the hospital. M4Gniutude would return giving Pollution his match with Master Chief for the championship but warning him that they would talk soon enough. Buu would tell Pollution to control himself becuase if the CEO gets the right mind all of them would be fired. Pollution would sign off stating he would control himself. Pollution would then have his title match at Singularity. To try and get under the skin of the champion Master Chief, Pollution came out doing the same entrance as the champion. And despite taking two Spartan Lasers and a lot of punishment, Pollution somehow was able to pull out a victory and become the Galactic Champion. This was his first championship in the M4G-Nation. He would then try to break Chief's leg post-match but was stopped by Goku. He was eventually kicked out of the Buu Crew by Buu on August 19th, 2013.
Lone Wolf, Pursuit Of The M4G-Nation Championship
Edit
Following his departure from The Supremacy, Pollution successfully retained his Galactic Championship against Master Chief at Solar Eclipse 2. After The Supremacy lost the 7 on 7 elimination tag match which caused all 7 remaining members of the group to be fired until 2014, Captain Pollution, Jesus, and Zangief proceeded to attack Spiderman. Captain Pollution revealed that he, Jesus Christ and Zangief were never part of the Buu Supremacy and therefore were immune to the stipulation of the Supremacy vs M4G-Nation match. Claiming to be "on top of the world", Captain Pollution set his sights on the M4G-Nation Title but would lose Jesus in a career match and would lose the Galactic Championship in the triple threat at Big Bang 2 (2013) being pinned by Master Chief.
Despite his loss he would change his focus and go after the M4G-Nation Champion Bandit Keith who was talking about his win on the State of the M4G-Nation. Pollution would talk down the champion and proclaim that the champion should watch his back. Captain Pollution won an off screen thriple threat vs Goku and Ash to become the number one contender for the Galactic Championship. Pollution would beat Chief to become the champion once again.
Battle with Vegeta
Edit
Pollution would enter 2K 14 with a losing effort when La Pollution lost to Mortal Kombat. He would then lose to his on again off again rival Ash Ketchum for the first time on December 2nd, 2013 in a steel cage dark matchup. Pollution would win vs Captain Britian in a contact match where Pollution would defeat the hero and deny him a job in the M4G-Nation. After the match Vegeta the number one contender would come out signaling to Pollution that his title regin was over. At the pay per view Space Jam Pollution would walk out making Vegeta the winner by countout but not winning the title. That was until M4G-nation Blue General Manager Magento would come to the ring. He would restart the match with No DQ and would take Pollution's title away and renamed the championship the Intergalactic Championship. Vegeta would go on to defeat Pollution. It was announced by Magento on January 5th 2013 that Vegeta and Captain Pollution would battle in a best of 7 series with the winner being the Intergalactic Champion and the other being unable to fight the other as long as they are champ.
Theme song
Edit
2nd and current theme song.
Despite being on the roster for a long time Captain Planet had yet to win a championship or be on a PPV until Singularity when he won the Galactic Championship.
As a face Captain Planet wore the normal Captain Planet gear, as a heel he wore black ring gear and dyed his hair purple.
Captain Planet's movements as a face mirror that of real life WWE superstar Kofi Kingston.
Captain Pollution's movements as a heel mirror that of deceased professional wrestler Hawk.
Captain Planet has been called gay for the color of skin, movements, and ring gear.
Since turning to the Supremacy, Captain Planet has began to go by the name Captain Pollution.
Captain Pollution is a career 9-13 nut counting rumble matches.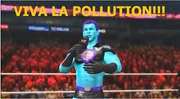 Accomplishments
Edit