Buu Supremacy
Credit to Joshua Campbell

Information

Members:
Buu (The Leader)

Jack-6

Jesus Christ

Bojack

Marcus Fenix

Captain Pollution Zangief

Spiderman

Ash Ketchum

Brock

Packard (The Voice Of The Supremacy)

Burger King (One-Off Appearance)

Debut:
July 4, 2012
Origin:
Dragonball Z (Buu, Bojack)

Gears of War (Marcus Fenix)

Tekken (Jack-6)

Captain Planet (Captain Pollution)

Street Fighter (Zangief)

Marvel Comics (Spiderman)

Pokemon (Ash and Brock)

Burger King (Burger King)

The Bible (Jesus Christ)

Real Life (Packard)
The
Buu Supremacy
were a heel wrestling stable in the M4G-Nation. It is notable for being the association's inaugural and most renowned and successful stable.
Officially beginning on July 4, 2012 as a team led by Buu with members Bojack and Marcus Fenix, the supremacy's primary intention was to dethrone Yusuke Urameshi as the Inter-Universal Champion. Over time, the faction's ranks grew in number, as their goal transitioned to seemingly seize control of the M4G-Nation universe.
Proving the faction's dominance in the M4G-Nation, the Buu Supremacy's members have collectively won the Atom-Weight Championship twice, the Hardcore Championship, the Galactic Championship, the Tag Team Championship twice, the Internet Championship once, and the M4G-Nation Championship twice.
Currently, all members of the stable are prohibited from wrestling in any match until 2014, due to their loss against feuding stable Team M4G-Nation.
Beginnings
Edit
The group's inception took place at July 4, 2012 shortly after Dragon Ball Z wrestler Buu assaulted Inter-Universal Champion Yusuke Urameshi backstage moments after his title defense against King, which took place in the aftermath of Galactic Throwdown, the M4G-Nation's first pay-per-view event. In a small promo cut by Buu with newly recruited members Bojack and Marcus Fenix, Buu issued an open challenge to the M4G-Nation roster in order to prove his wrestling mettle. This resulted in a match where Buu severely injured and presumably killed M4G-Nation wrestler Link, showcasing his wrestling ability and competitive nature.
Buu's supremacy then saw two new additions to its ranks; Tag Team Champions Team Old School joined the Supremacy following an inexplicable ending to their title defense against Darth Vader and Ganondorf, which was shortly revealed in a promo to be of the Supremacy's doing. In said promo, Buu enters the ring and confirms the addition of Team Old School, as well as furthering the intensity of his and Yusuke Urameshi's rivalry by mocking the death of Yusuke's friend, Link. A month later, the Supremacy then intervened on the Atom-Weight Tourney prior to the grand finals of said tournament between Jesus and Trunks, revealing the addition of Jesus into the Supremacy in a promo.
The faction held its second championship at Solar Eclipse, the M4G-Nation's second pay-per-view held on August 19, 2012 where Buu defeated Yusuke Urameshi for the world title. However, simultaneously, the group also experienced its first title loss on the same night when Team Old School lost their titles to Sephiroth Prime. This defeat led to tensions between Ash and Brock, which would ultimately lead to the tag team's dissolution at the TMN Tag Team Tourney, following Team Old School's loss at the hands of Ghost to Gotham. This in turn led to Ash's pursuit for the Atom-Weight Championship and future success as a singles wrestler. Shortly afterwards, Brock joins Trunks' side of the feud against former teammate Ash Kecthum and thus leaves the Supremacy's roster. The Supremacy at the M4G-Nation's third pay-per-view M4gamania had its fair shares of ups and downs; Ash Ketchum won the Atom-Weight Championship, while Buu lost his world title to Royal Rumble winner and #1 contender Darth Vader, Marcus Fenix attempted to wrest the title from Jack-6, but his attempt proved insufficient. The group was then regarded as inactive for months.
Return to power and Rise of Jack-6
Edit
On February 6, 2013, the faction shot a promo celebrating their return alongside another new addition to the team, Inter-Universal Champion and former Galactic Champion Jack-6. The team leader Buu also announces his intentions to dominate the M4G-Nation universe, and threatens anyone who opposes them. Their first target was Goku following his successful preliminary match against Darth Vader, where he was attacked en masse by members of the Supremacy. Goku was attacked once more by Jack-6, Buu, and Marcus Fenix in a promo where Goku states that they are cowards after their inaugural ambush on him. These encounters led to a feud between Goku and The Supremacy, where Goku saw the rise of his own faction intent on undermining the Supremacy's power, unofficially referred to as Team Goku.
In a tag-team match between Captain Planet and Captain America against Supremacy's Jack-6 and Bojack, Captain Planet turned heel by attacking his teammate, and joins as the ninth member of the Supremacy, becoming known as Captain Pollution in the process. He later addressed his motives to the audience in a promo, stating that he was fed up with Goku receiving multiple undeserved title shots, and that the prospect of the Supremacy earning every single Championship in the M4G-Nation will be a reality. However, Pollution was attacked by Yusuke Urameshi, signalling either a potential feud between the two or that Yusuke developed a new motivation and drive to destroy the stable that cost him his world title. Under his new persona, Pollution then began to attack various wrestlers who threatened the Supremacy, including 40-man Royal Rumble winner Boba Fett in a promo, thus injuring him. By Vernal Equinox, Boba Fett was sidelined with injuries sustained from Captain Pollution's ambush, as such, Jack-6 was left without an opponent in the main event. In spite of this, Jack-6 issued an open challenge to anyone who wishes to fight for his M4G-Nation Championship. Shockingly, Yusuke Urameshi entered and cashed in his Money in the Bank contract earned in a prior Money in the Bank ladder on this PPV, officially reigniting a feud between Yusuke and the Supremacy. Jack-6 and Yusuke Urameshi engaged in a grueling battle on that night, but Jack-6 was the one to emerge victorious after - in a supreme act of disrespect, performed Yusuke's finishing move against him. Afterwards, faction leader Buu and Bojack formed an official tag-team known simply as The Supremacy, declaring that they will dominate the tag-team division.
As Yusuke Urameshi and Boba Fett strive for the M4G-Nation Championship, Jack-6 offered a triple threat match between the trio for the world title held at Sonic Boom. At the same time, Ash Ketchum won an elimination chamber match to become a contender for the Atom-Weight Championship once more, having lost the title on a number of occasions, while The Supremacy finally gains #1 contendership for the Tag Team Championship after multiple attempts. These three matches took place at Sonic Boom, where Ash was unsuccessful in reclaiming his title, Buuand Bojack had attained the tag team title, and Jack-6 retained his title with the assistance from debuting wrestler and recent addition to the Supremacy, Zangief. 
Since the inclusion of Captain Pollution, there has been animosity between Pollution and fellow member Ash Ketchum. Tensions arose when Ash Ketchum defeated Captain Pollution last in the Elimination Chamber for number one contendership for the Atom-Weight title. After Ash failed to capture the title at Sonic Boom, Pollution came out post-match to insult Ash and question Ash's worth to the Supremacy.
Post Sonic Boom
Edit
On May 28th, during an episode of State of the M4G-Nation, Ash and Pollution engaged in another moment of contention backstage. Pollution referred to Ash as a disgrace to the group, whereas Ash belittled Pollution as a liability because of his inabillity to win a championship in the M4G-Nation thus far. Jack-6 broke up the argument and decided to book a match in the near future between Ash and Pollution, with the stipulation that the loser will be forced to leave the Supremacy. On June 1, following several near-falls, Captain Pollution was triumphant over Ash Ketchum, meaning that the latter was obligated to leave the Supremacy. Captain Pollution's next match would be as a tag team with Jesus vs. the team of Skeeter and the Red Ranger or Seriously Too Cool. Buu and Bojack would take out Red Ranger and Captain Pollution and Jesus would take down Skeeter. They would give him a double chairshot and take him out.
Feud With Bane
Edit
The Buu Supremacy, particularly Jack-6, then began a feud with an upgraded rendition of Bane. The storyline began in a promo segment in the third State of the M4G-Nation when the robotic representative of the M4G-Nation boasted to the audience that Zangief would prove to be the 'future' of the M4G-Nation. It was until then that Space Ghost confronted Jack-6, informing him that he has a 'friend' of his, who will be returning to the M4G-Nation to draw a conclusion to the Supremacy's reign of terror. After much speculation, the 'friend' Space Ghost was referring to was revealed to be none other than his friend and tag team partner Bane, who reportedly had fled into hiding in Brazil to train. Honing his skills in Sao Paulo, Bane had injected himself with a myriad of venomous toxins to increase his muscle mass tenfold, and became known as one of the most impressively sized wrestlers in the business. Intimidating even the seemingly unfettered Jack-6 out of the ring in a segment, Bane had conveyed to the M4G-Nation universe with his mere presence alone that he is not one to trifle with.
With Space Ghost employed as his new manager, Bane was challenged by Jack-6 to participate and reign victorious in two preliminary matches, one against Supremacy member Marcus Fenix and another to Zangief, in order to challenge him for the M4G-Nation Championship. Effortlessly defeating Marcus Fenix, Bane had then shown slight difficulty in disposing of Zangief, who rivaled him in physical stature. Their prowess was had proven to be equal when the match had resulted in a draw by double count-out, meaning that Bane was unable to challenge the robotic superstar. In the following promo, Jack-6 had addressed to the audience that he would not be fighting for his title at Galactic Throwdown II (2013) against Bane. Unfortunately for the champion, Space Ghost persisted, and reminded Jack-6 as well as the M4G-Nation universe that while his employee did not defeat Supremacy henchman Zangief, he did not lose either. No longer obstinate about the situation, Jack-6 caved in to Space Ghost's request, and begrudgingly granted Bane the opportunity to clash with him for the title. Although in an effort to 'even' the matches odds, Jack-6 bestowed upon himself the stipulations of 'no disqualifications' and 'falls count anywhere'. While these additional clauses initially seem to be unfair, it is viewed otherwise in Jack-6's head, proving that he would seize any and all opportunities to retain his title.
Galactic Throwdown II (2013) proved to be an eventful day for the heel stable: Jesus has successfully attained the Hardcore Championship by attacking newly crowned champion Batman while the latter was occupied by Captain Pollution accosting him. Buu and Bojack failed to reclaim title gold in a tag team gauntlet match, having fell victim to Spartan Fury. Jack-6 suffered a loss to Bane following a superplex devastating the entire ring. This resulted in a knockout victory for Bane, which led many to question whether or not Jack-6 retained the title, as he stated that Bane was only to win through pinfall or submission inside the ring vicinity. However, on the sixth State of the M4G-Nation, it has been substantiated that Jack-6 had indeed lost his world title to Bane.
Post-Galactic Throwdown II
Edit
Captain Pollution would go on with his chase for the Galactic Championship. He would challenge current title wielder Master Chief to a match for the title. Master Chief wouls state he would allow Captain Pollution to face him if Jesus and Captain Pollution can beat him and a partner in a tag team match. Master Chief would choose the Hulk as his partner but Buu and Zangief would assult Master Chief backstage making it a 2-1 handicap match. Jesus would pin The Hulk meaning that Captain Pollution vs Master Chief for the Galactic Championship will happen at the next PPV.
On July 20, 2013, in the midst of the second Atom-Weight Tournament. Spiderman found himself alongside Buu during his entrance, leading many to believe that he joined the Buu Supremacy, even though the announcing team suggested otherwise that they were merely close friends. Spiderman was to face Dante in the first round of the tournament. At the end of the match, Spiderman pushed the referee into the path of Dante's corner turnbuckle clothesline, briefly incapacitating him. By then, Spiderman turned heel. He accepted Buu's offer for a steel chair, and used the weapon to attack Dante in what was a premeditated strike. The new member of the faction pinned his downed opposition for the three count, confirming his status as a recruit. While Spiderman would go on to face defeat by Skeeter Valentine afterwards, Jesus (accompanied by Captain Pollution) advanced on to the finals to fight Link and successfully pin him to reign as the winner of the Atom-Weight Tourney. Because of this, Jesus was now able to challenge Adolf Hitler for the Atom-Weight Championship at Singularity, although he would also risk losing the Hardcore Championship currently in his possession simultaneously. For the then upcoming Pay-Per-View, Space Ghost accepted Jack-6's challenge on behalf of Bane for the M4G-Nation Championship, as a means to halt Jack-6's complaints towards the deprivation of his world title.
Reclaming Power
Edit
Singularity proved to be a very successful PPV for the group. Despite Jesus failing to win the Atom-Weight Championship and losing the Hardcore title in the process, Captain Pollution would win the Galactic Championship from Team Goku's Master Chief. This victory meant that the Buu Supremacy have held every male championship there is to win at some point during it's existence. To top it all off, Jack-6 would go on to reclaim his M4G-Nation Championship from Bane in a Hell In A Cell match. On August 10, 2013, Zangief would enter a tournament for a shot at the Internet Championship. He would defeat Raphael in the 1st round, Red Ranger in the 2nd, and V in the finals. Afterwards, he beat Sephiroth and became the new Internet Champion. On August 19th, Captain Pollution was kicked out of the Buu Supremacy by Buu for accepting a match at Solar Eclipse 2 he wasn't involved in on the Supremacy's behalf. Bojack also left the group and joined forces with Goku's team in the fight against the Buu Supremacy. On August 26th, Goku and The Supremacy would come to an agreement for a match at Solar Eclipse 2 where the losing team would be fired until 2014. The match was scheduled to be a 7 vs 7 elimination tag team match. This means all 6 Supremacy members with a suprise partner would face 7 members of Team Goku. This also means that Jack-6 will be competing in two matches on the PPV as might Boba Fett if he's included.
At the anticipated Pay-Per-View entitled Solar Eclipse 2, Jack-6 successfully defended his title from Boba Fett and Bane. However, the group had collectively suffered defeat against Team M4G-Nation in their scheduled 7 vs. 7 elimination tag team match. Their revealed partner was a member of Packard's own D-League rookie stable The Little Cruise that Could and the proclaimed 'Ace in the Hole' Burger King. With their defeat, all members of the Buu Supremacy are considered inactive until 2014, meaning that Jack-6 and Zangief are each obligated to relinquish the M4G-Nation Championship and Internet Championship, respectively.
On September 3, 2013 ex-member Captain Pollution revealed that him, Zangief, and Jesus were never members of the Supremacy, unbeknownst to the rest of the roster and the M4G-Nation universe. Pollution then stated that the Supremacy's downfall was of his own machinations, and proceeded to promise that he - alongside the two newest recruits to his mini-stable, will be 'On top of the M4G-Nation'.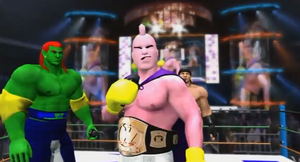 Buu - Leader (July 4, 2012 - Present)
Marcus Fenix - Brain (July 4, 2012 - Present)
Jack-6 - Prodigy (February 6, 2013 - Present)
Packard - Voice (February 6, 2013 - Present)
Spiderman - (July 20, 2013 - Present)

Brock - (July 11, 2012 - October 10, 2012)
Ash Ketchum - (July 11, 2012 - June 1, 2013)
Bojack - (July 4, 2012 - August 19, 2013)
Captain Planet - (April 18, 2013 - August 19, 2013)
Zangief - (May 26, 2013 - September 3, 2013)
Jesus - (August 7, 2012 - September 3, 2013)
Burger King (September 1, 2013) (One-Time Appearance)
This video was made by Lakhan Gill fan of the M4G-nation and is a basic introduction into the Buu Supermacy and what each member does.
Color commentator Packard is a dilligent fan of the group (which pertains to his heel commentator gimmick), often referring to it as the Buu Crew, or more recently, the 'Buu's Crews' (a play on Blues Clues, a popular television show) and the homophone 'Buu's Cruise'. 'The Little Cruise That Could' - Packard's team in the rookie based D-League promotion, is also a reference to the group.
The group have at some point won every male championship in the M4G-Nation. Both Jack-6 and Buu have held the Inter-Universal Championship, and Jack-6 has been a two-time M4G-Nation Championship. Captain Pollution has won the Galactic Championship, and Ash Ketchum has held the Atom-Weight Championship twice. Team Old School while with the Buu Crew held the tag titles as did Buu and Bojack in April 2013. Jesus Christ won the Hardcore Championship, and Zangief has held the Internet Championship.
Currently, it is impossible for the Buu Supremacy to attain any female oriented championships, due to the fact that all male and all female character creations for the M4G-Nation are segregated to separate hard drives, and therefore cannot interact with one another in any way outside of storylines.
Every Pay-Per-View main event has involved at least one current or future member of the Buu Supremacy. (Although Galactic Throwdown is questionable, since Buu made his debut backstage after the main event match between Yusuke Urameshi and King.
Accomplishments
Edit