Hitler

Information

Origin
Real Life
Debut:
March 15, 2013
Career:
Retired
Finishing Move:
Blitzkrieg (Suplex stunner)
Adolf Hitler was an Austrian-born German politician, and is a fictional wrestler that competed in the M4G-Nation.
Hitler is a former Atom-Weight Champion and Hardcore Champion, is a retired member of the stable The Neo-Underworld, and holds a 6-2 win/loss record.(excluding Royal Rumble matches)
Adolf Hitler made his debut on March 15, 2013, teaming up with Skeletor and Myotismon against The Buu Crew. Where Hitler and his team won when Marcus Fenix was disqualified for remaining in the ring while tagged out. He later went on to participate in the M4G-Nation's 4th Royal Rumble to decide the #1 contender against Jack-6, He would come out at a very late draw number 35 but was eliminated by Space Ghost and Ezio. Hitler then later lost to Ash in his first ever singles match on April 6th 2013.
One month and four days later, Hitler participated in an Elimination Chamber match to determine the second #1 contender for a triple threat title match for the Atom-Weight Championship held at Sonic Boom. He managed to outlast every other wrestler, eliminating Jesus, Ezio Auditore, and Skeeter to gain #1 contendership for the Atom-Weight Championship. At Sonic Boom he would pin the champion Darth Maul to become the Atom Weight Champion. Hitler would then appear in a six man tag team match with the rest of the neo underworld vs Link, Raphael, and Trunks and the underworld would win the match. On June 16th, 2013, Hitler would come out onto the stage and cut a promo after Trunks's win over Darth maul. He would make a match between him Trunks, and fellow Atom Weight Tien Shinhan (who also won a match vs Deadpool) in a triple threat for the atom weight title at Galactic Throwdown II. Hitler would defend in a ladder match and would climb to the top of the ladder to win the match and retain his championship. Hitler will face the winner of the Atom-Weight Tournament Jesus Christ at Singularity with the Atom-Weight and Jesus' Hardcore Championship on the line. Hitler would win the match to become the first ever wrestler in the M4G-Nation to hold two titles at the same time. Hitler celebrated with the Neo-Underworld backstage after the match.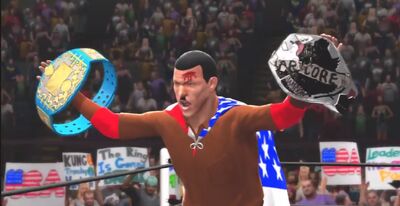 He would appear on State of the M4G-Nation of August 13th saying that as a dual champion he was allowed to pick his next title defense stipluation which turned out to be an I Quit Match. On the next State of the M4G-Nation he would proclaim he was not a greedy guy and had no use for the Hardcore Championship. So he would vacate the Championshop and allowed four men to battle in an extreme rules match to find a new hardcore champion. Hitler's reign as the Atom-Weight Champion came to an end when he lost an I Quit Match at Solar Eclipse 2 against Tien Shinhan.
The M4G-Nation announced on September 2nd 2013 on their Facebook page that due to their impending contract with WWE and because of his controversial character, Adolf Hitler has been released from the M4G-Nation. According to the status...
"With a contract with the WWE in the works, we are going to be apart of WWE's public image...meaning our controversial characters are going to have to be let go. Now, we aren't being forced to make any changes in order to get this contract, but as a token of good faith on our end, we are going to be releasing Hitler. HOWEVER, his M4G-Nation persona will not end, we can promise you that, and we hope that what we have in store for you tomorrow will entertain you in the ways that Hitler has over the last few months."
Hitler appeared a day later in an episode of State of the M4G-Nation to announce his retirement from the ring. He went on to assure everyone that he will only refrain from wrestling, stating 'That does not mean you will not see me again, just not in this ring'. Adolf then introduced his successor - his supposed son Earthworm Jim, to the M4G-Nation.
Since then, the WWE cancelled the contract with the M4G-Nation. So it is now possible that Hitler could make a return to the M4G-Nation in the future.
Theme Song
Edit
Hitler is possibly one of the oldest real-life wrestlers in the M4G-Nation, being born on April 20th, 1889. (he would be 125 years old as of 2014.)
Hitler's entrance mirrors that of WWE's Too Cool member and real-life wrestler, Grand Master Sexay.
As a mockery of the real life Adolf Hitler and his actions as a dictator, he is donned in his usual Nazi regime uniform, but is shown wearing a cape decorated with the american flag. Even stranger is his actions upon making his way to the ring, as his entrance animation resembles real-life professional wrestler Grand Master Sexay, and his entrance theme is set to german electronica music.
Hitler was the first ever person in the M4G-Nation to hold two championships at the same time being the Hardcore and Atom Weight Champions at the same time. Thus, he is the first ever Dual Champion.
Accomplishments
Edit
Atom-Weight Champion (1 Time)
Hardcore Champion (1 Time)
First Ever Dual Champion (1 Time)